Our Video
Quick Contact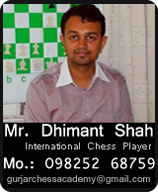 Join Now
About Gurjar Chess Academy
Mr. Dhimant Shah
Gurjar Chess Academy Was Started To Provide Regular Training for The Students from Beginners to International Players on Daily Basis. Gurjar Chess Academy was Founded in the Year of 2007 by
Mr. Dhimant Shah.
This Academy is Setup With an Aim to Provide a Platform for the Upcoming Players to Nurture their Talents and Make a Mark in National and International Chess. Gurjar Chess Academy is an Ideal Place for Young Players to learn the Secrets of the Mind Game.


Achievements of Mr. Dhimant Shah

Mr. Dhimant shah is The one n Only World Chess Trainer in Gujarat. He is also Among The six World Chess Trainer in Whole India. He has Represented India in International Tournament Ashian youth chess championship And London-ilford Chess Congress 2008.
Today We Have 4 branches in the City of Ahmedabad. We give chess coaching to Schools And Educational Institutes. We Also Provide Sponsorships To Students from Reputed Companies. Many of our students have performed well at State level, National level & International Level. Academy Provides Regular Coaching for the Students from Beginners to International Players on Daily Basis. Our Groups are Divided by According to Playing Strength of the Players.
Apart from chess coaching and training we are Dealing in All kind of Chess Products like Chess Book, Chess Clock etc.

Latest News
International Point Of Our "Kaivan Shah" is Increase by 30 POINTS In Hydrabad.
On 28-10-2012
Vraj Kayasth Got 2nd and Jash Parekh Got 10th Position In Interschool Chess Tournament.
On 28-10-2012
We Conducted Ahmedabad District chess Tournament "SAKAR CUP" at English School Chandkheda.
In Group-B Our Student "Kaivan Shah" International Rated Chess Player Won The Championship.
On 9-9-2012